2.21.19
Working every day on new fiction, in Body of H8, whose Working Title has changed from Thumbs, to Raking Over Stills. Sections were coming up in paragraphs like still shots. So decided to rename Taking Stills.
That settled, next day started to zoom in on dark little plots, like knots, search lights focused on meaning, and its contortions. Today broke out into something more – defiant. Bit naughty, as if kicking down fences, seeing what flips up in my face, questioning everything but the obvious –  
2.16.19
Updated artwork on page for Body of Hate, brought falling bodies back, but in a new way.
2.15.19
First page from Introduction in book made up of Bataille's collected notes, on his Unfinished System of Nonknowledge: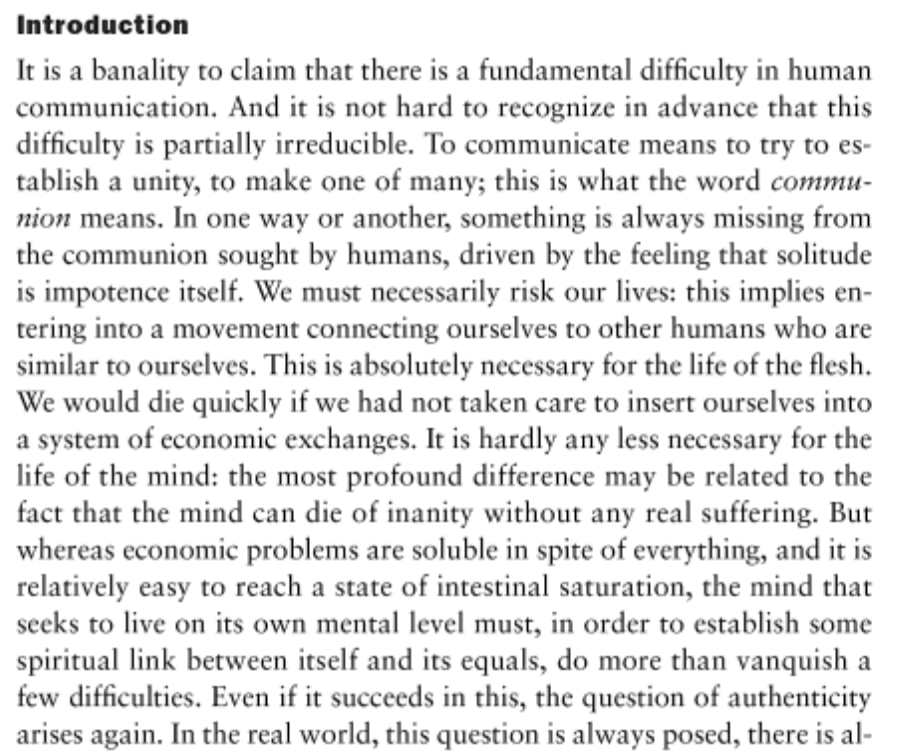 2.13.19 
New poem in works called GM loves GP. Its pretty god awful. Poetry has grown quite dark again. Am thinking of throwing everything back up again, just to get myself to work on it.
2.10.19 
Redid artwork here. Its pretty typical. Which is what I was after? Glad to have my Tinkle page back. Putting the clowns out in front – seems only reasonable approach to my partaking in articulating visuals here.
2.3.19 
Character I call Stinky has shown up – blown itself up in my face now several times, blinding me with devious laughter, stoking after images that border on things which are really quite maddening.
Stinky does not exist in the present tense, is what I call a cartoon lodger, out beyond limits and seductions of reason, battling with intimate habituations that arouse dissident entrancements, having gone lustrous & wild with impossibility.
Stinky's character breaks constraints with reality (and in a way – me first, right along with it).
The problem is that while it's going on, it's such a deviant blast, painfully seductive to watch – when my Stinky character is set loose from the madhouse.
Methinks Stinky always shows up after a "Bunny Kill" (either way) – what in theater circles is referred to as killing the darling, time suddenly reeks with so much volatility and emptiness, and nothing to show for it.
So Stinky shows up, cracks me up, leaves me reeling and always astonished. Some things, having gone for broke at the borderlines of meaning (again and again) – one never truly, completely gets over.
1.30.19 
Added new Body of H8, called Lucy's Opposable Thumbs. Need to figure out how to separate out BOHs from True Con. As stands now there is little diff on many, feed right off each other.
1.26.19 
Added new Tru Con, called The Dip Switches. Needs one more solid edit. Starting redesign for site. But nothing up yet. Too busy so far this year with school and writing to really concentrate on as necessary.
1.20.19 
Drawing for me is FUN. Its like writing only something visionary is hiding out in the brush, when works ink & brush bleeds something "magical" into my day. 
1.19.19
Started another poem, so far called Terminal Determinator. Another ending is brewing, gets a bit repetitious, haven't quite captured the ending yet. Needs another big push.
School starts this week.
Can't wait to redesign THIS PAGE. Probably wont have time to start on it for another two weeks.
1.15.19
Just got asked Last Minute to take on another class of Flats & Specs. Monday Morning 9am. OO la la. I am walking into another Wild Semester.
1.14.19
THIS IS ON TOP OF LIST. Gonna update Tru Con background. This last update mostly a dud. Bring Falling Bodies pattern back on Body of H8 I think, which I miss. This page – have also vaguely begun another redo: Tinkle Report, or Tinkle Time. Having Pastiche here right up front, is much more telling and received better, as its inspirational/conspirational. Gonna bring in more drama for artwork on Poetry to emphasize both horror & droll aspects of its reach. And def conspire to build something more fashionista for School Page, that is course-wise ongoing.