True Confessions of a Subliterate Dork
On the Aesthetics of Beauty and Hell
Pee Boy Magic & Bat Out-a Hell
Pee boy is a cartoon whose camouflage am flying under while admitting everything.
Satirical & penile, Pee Boy is a vehicle of ludicrous contempt.
And I can LIVE with that for some reason makes it easier on wild rebellion of fears whose reckonings and beckonings are glorious aggressive rabid indefatigable.
Ludicrousness calms a wild heart, as its both ludicrous and genuine. Contempt is genuine as throwing a shoe or peeing behind someones bushes drunk, undercover of darkness.
Barflys dreamy angelic collusion with freeing fate from feet mysteriously bogged down to the horrors of innocence – rage anger hate.
Love as a condition of its devotion to hidden contempt like a flattering slave who really really wants to mean it –
And chattering fears possessed by love as a miracle of death, death frees the captive, to die some more – flares up as sacrificial traumas.
All throughout my childhood! wild and tender visitations from panics of hell!
Jesus on a stick dying. And The Vanishing poor wicked creature is clinging like madness, dumb and secretive as a locket of hair in a locket of hope undersealevels, mining awareness as it explodes, a bastard funk wild and grueling with riotous contagions of thirst –
Abandoned through abandoned through to hells ditch as a calling of angels in thrall to death. Oh the levels of Dantean tragedy – dotting every bruise on peach of map with a little red flag for here lies destiny.
A body that turned to mud, would not could not follow a mind, it went somewhere else, a strange unhinging frailty eclipsed by an orrery, wicked fiendishly inbred loops, wrapping itself up inside a mummy of death, clinging to love as faith against madness.
A hearts raving turmoil of hope and lust and impossibility, devout in her speechless imbecility.
Strange mephitic misery guarded all around by allures of a mephistophelian contempt!
Bat out-a hell, pee boy magic – to make a run for it for love and freedom!
Staid fruits of logic stay within reason!
share this post
La Boue
Truth serum sounds up from Divine Wreckage nostalgie de la boue! La Boue is a favorite word. Its French for mud. Sentiment – both passion and loathing – reference a chronic demonology to La Boue, and also $wamp Dismal. Chronic, enchanting – incantatory. Horror and hope finding a wilderness with freedom to burn.
The Great Dismal Swamp: where Indigenous Americans, African-American maroons, escaped slaves, enslaved company workers, and outcast Europeans would escape to and live, beyond capture (see Sayers book, below).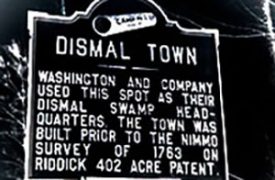 Where will-o'-the-wisps and glow-worms shine, In bulrush and in brake; Where waving mosses shroud the pine, And the cedar grows, and the poisonous vine, Is spotted like the snake;
from The Slave in the Dismal Swamp by Henry Wadsworth Longfellow
"A Desolate Place for A Defiant People," by Daniel O. Sayers
The Priceless
Slave to love. Slave to the gods. Religion, love, freedom – stirred a delinquency of stowaways consonant of the same apostasy/ apotheosis, i.e. supreme price. There seemingly endorsed, enforced no underlying difference, no limits upholding boundaries between them.
And one "day over day" my heart ran away – ran away from me – to Swamp Dismal, and The Great Reversal.
The Fallen
Living firmly in the present? seemingly no more than as required. Secretly one of The Fallen – out behind the wonder wall: staunch and mephitic and loyal to sorrows, raiding media & reality from an absolute distance, like some downwind quarry, passions burning and grazing with the tides.
Proportions between reality and the abyss wavered, but the retaining wall stayed up – as fundamentally sensible. Until my heart ran away – to where freedom is more important than life itself.
Desires and visions escaped, emerged out from behind the wonder wall, beyond permission, presumption, avowed motive – unleashing an intent whose terrors were hard wired to something ulterior, making whatever I did at some point disingenuous, also feckless two-faced shocking.
Desolation overturned into a beauty at war with itself.
The Crash
Sacrificial language whose supersession risks everything for freedom = love = beauty || death, coming out of the high desert religious purity/apocalyptic dyad (which I sometime affectionately call scorn porn), crashed into La Boue.
Whatever arrogance, stupidity, hardship, heartbreak, feeling of slavery to god, to death, to the mystery of love – La Boue (the mud in my eye) did not disenchant, no matter how hard tried not to succumb.
But imperiled as a vulnerability ruthless and unruly stealing me away to where muses madly insist that to shirk from them above all else is tragic. That for them to exceed capture – was all that mattered !? 
Crackers
Shocked the blessed sh$t out-a-me. The harder tried not to be stolen away, not to end up eaten up by wonders grave & riotous (hopeless & bathetic), the more it engulfed me, the more my wild sorrowing soul got carried away, away by Sweeney Astray. Crackers after the sublime. Voices exploding irrepressibly, in silence and horror, like angels flying and dying.
And the errant call of the Pee Boy, and the lope/grope/reap-a-heap after fellow travelers in loo-be-who-too? Finally (with help from a darling creature, am calling Cave-of-The-Winds) began to think of it, in terms of theater – as essentially Trojan. Locked inside a beautiful gift-horse whose intent was fetching and brave, but also: hidden, cunning, pernicious, predatory, ruthless, destructive – etc.
Lurking as riveted to a breaking/awakening tektology, whose departures, correspondences, interlucent shipwrecks, mystery/miracle/morality raiders of the barking lost arc, were inextricably wound to a looping sponge-hungry cosmogenic – whose quasi-medieval substrata betrayed a nitpicking, spluttering fay-fey (fay: faith, fey: fated to die): quaking and ferocious (and backsliding), disappearing into the woods, predisposed to cruces fixity: the sacrificial sublime. Oh my bounty, mutiny unmerciful.
Sincere Decoration of Purpose
To purpose out Works in Progress here in an effort to enduce my foo La Boue into some kind of publishable shape.
Meantime, skimming, buffet & sly urkingdom of hearts – for miracle compounds of love & death, hope & hate.
share this post