TINKLE REPORT
Boy Howdy
"Major Tom to Ground Control."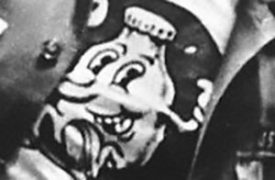 Poetry had let loose a monster whose mystery was self devouring.
Still have tons of it – boxes of files & photos from Creem Magazine's last gasp. The dream of doing a collected book, called The Creem Chronicles, died for me as victim of a roaring quavery sadness – sanctimonious and eruptive.

Crates of it still stuck in brothers basement settling for less – bit smelly – but basically in tact.
Snot Guilty
Would again and again push for a book – of uncompromising Piss Boy beauty – when wild gestures began to accumulate.
Suddenly I'd get lost, out at edges of righteousness and meaning, and would descend into petulance –
Quizzically, at depths of religious beauty – what purifies also terrorizes. P Boy Purity? Well that's a Monster Cookie – clandestine monster in heavens larder who with angels screaming, would hit a breach!
Poetry had let loose a monster whose mystery was self devouring.
Had to teach myself how to find "lines" – which is what I do now – use drawing to help define edges with specific purpose, as a matter of surface and in a community where search-for-beauty is meaning.
Must apologize to: Dorothy Sherman, Louis Ginnelly, Jimmy of Jimmy's Corner, Russell Galen, James Fitzgerald, Thomas J. McCormack, Hank Bordowitz, Marvin Jarret, Marsh, Christgau, Bangs, Altman, Arnold, and everybody else at Creem.
Who, What shd I do (w/ it) – ?
Tinkle Report though a spoof – is subderiv! (ahold with homage to – ) Patti Smith's great gnash-ville hollar: PISS FACTORY.
Alackaday – what what what to do with 20+ crates of files from the original Creem?